Traineeship kick-starts Phillip's career
Last updated:

19 April 2022 3:03PM

First published:

19 April 2022 12:50PM
Date: 29/09/2023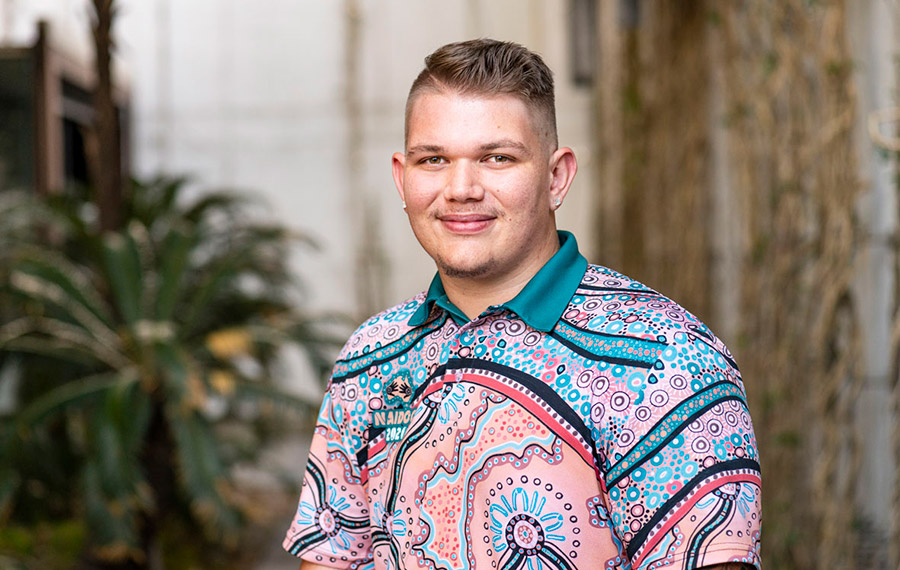 Two years ago, Aboriginal and Torres Strait Islander trainee Phillip never thought he would be in the position he is in now.
"I saw an opportunity to not only give myself a chance at gaining a secure career, but also a chance to help my people."
Phillip's traineeship with the Cairns Housing Service Centre in 2020 helped him secure a role as a housing officer last year. Now he really enjoys working with his team to find secure and sustainable housing for vulnerable people.
"In my current position I work on the front line of the department, which means I work with people applying for social housing. This involves assessing housing applications and interviewing customers to source different housing outcomes and possibilities."
"I have family that grew up in departmental properties and was always around them as a kid, so being on the other side of the fence working with the department to help my people is an amazing feeling."
The traineeship gave Phillip full-time work and opportunities to study and learn. He completed a Certificate 3 in Community Services and gained hands-on knowledge from his teammates.
"The high standards of the training organisation and the department helped mould me into the professional I am now. The support I received was the most surprising part, everyone was always patient with me when I was learning."
Phillip gained exposure to the different areas of the team and learned new skills that helped him progress to his current role.
"Throughout the traineeship I learned as much as I could. I moved from processing applications to tenancy and complaints, to property inspections and even travelled to remote communities in Cape York," he says.
Phillip encourages other First Nations young people to apply for a traineeship and not let age hold them back.
"I thought that being 20 years of age would have its challenges, as I was not the most experienced. But I used this to my advantage, always asking questions and trying to develop that knowledge by learning from my co-workers."
"I am grateful for the traineeship. I learnt that there will be trials throughout life and things will try to hold you back. But if you stay on track and keep persisting you will thank yourself later."
Our group training provider is now recruiting for a range of Aboriginal and Torres Strait Islander traineeships in business administration, community services and information, digital media and technology.