We're sitting down with the LGBTIQ+ community to work on a more equal future
Last updated:

12 October 2022 10:44AM

First published:

12 October 2022 10:39AM
Date: 29/09/2023
As we celebrate another successful Brisbane Pride Festival, the Queensland Government is getting ready to establish the 2022 – 2024 LGBTIQ+ Roundtable. The Roundtable members will work hand-in-hand with the state government to identify major challenges that currently exist within their community and discuss what can be done to help.
Discrimination can be a regular occurrence for many members of the LGBTIQ+, Sistergirl, and Brotherboy communities. Whether it is accessing healthcare, police protection, housing, or safety in schools; there is still some way to go to achieve true equality for some members of our communities. For the Queensland Government, engaging with the LGBTIQ+ community, including through the Roundtable, is an important step towards equality.
This year, the LGBTIQ+ Roundtable returns for another two-year term, with members who will provide the Queensland Government with advice and real-world insights. It's been two years since the last Roundtable – and what a huge two years it's been. In particular, our state has seen catastrophic floods and a global pandemic.
So, as we prepare to welcome the newest LGBTIQ+ Roundtable members, we're taking the opportunity to reflect on the previous term that ended in 2020. We spoke with Dr Elise Stephenson, a research fellow at The Global Institute for Women's Leadership, about her participation in the last Roundtable term, and why it was so important to her to get involved.
What is a 'roundtable'?
From a government perspective, a roundtable is an opportunity to invite representatives from the local community to participate in open and honest conversations with those in state leadership. These sort of community bodies are not exactly new: the most recent version of the LGBTIQ+ Roundtable was first established in 2012, with the last term held over two years from 2018 to 2020.
If you're imagining one big table, and one big event, you'd be partly right: 18 community members met with seven government representatives around one big table. But it wasn't just the one event. There were six meetings held over two years, with each session exploring a new topic such as, 'How do we keep Queenslander's healthy?' and 'How do we keep our community safe?'
There were guest speakers, community engagement, and a joint effort to provide a safe space for the government to speak directly with its people. Applicants were sourced following a community callout, and Dr Elise Stephenson says that she was one of the first to apply. As a 2022 Fulbright Scholar and Overall Outstanding Young Alumnus for 2020, Dr Stephenson is an award-winning gender researcher and well-known community leader and was looking to give younger members of the LGBTIQ+ community a voice.
"I applied for the Roundtable when the call-out was first announced," said Dr Stephenson. "I was keen to be able to have a say in issues affecting LGBTIQ+ Queenslanders and was interested in seeing more young people have a say."
Being led by people, not policy
The only meaningful progress can come from open communication. For Dr Elise Stephenson, the willingness of the Queensland Government to actively involve community was a massive step forward.
"It is incredibly important to have support for LGBTIQ+ inclusion and rights at the highest levels of government. This is both a matter of human rights, as well as feeling listened to, included in, and part of a thriving Queensland community," says Dr Stephenson.
"To me, the Roundtable showed a genuine desire and commitment to take LGBTIQ+ people, concerns and rights seriously. It showed a desire to learn more, to be led by the community, and to be more proactive in the government's approach to providing core services to the whole community."
Doing it for the kids
Where does LGBTIQ+ discrimination begin? In the schoolyard. One of the key focuses of the roundtable was how we can protect LGBTIQ+ identifying kids in schools – a problem that's a significant contributor to youth suicide and cyberbullying. The group completed a review of existing resources for diverse sex education in schools, like the 'Bullying. No Way!' website. This was then condensed into a learning document for teachers and principals, regarding legal implications around identifying and responding to homophobia and transphobia in schools. The goal? Make school a safe place to be as a LGBTIQ+ kid.
One of the timelier conversations about LGBTIQ+ children came during one of the roundtable meetings in 2019, when the members raised the issue of non-consensual surgery on intersex babies. This issue was then raised at some of the highest levels of government to share the concerns of members of the Roundtable about the physical and psychological implications resulting from surgeries on intersex infants.
Just two years later in 2021, The Australian Human Rights Commission released a report about protecting the human rights of people born with variations in sex characteristics in the context of medical interventions. "In this Report, the Commission proposes better oversight and approval mechanisms, requirements for ensuring informed decision making for parents and children," the report opens. It was a great example of the conversation extending right from community concern to state action.
Domestic violence is not just a heterosexual issue
A lot of resources and information for those struggling in domestic violence situations are geared towards cisgender, heterosexual families. But same-sex families can experience the same problems. This was a major talking point in the last term of the Roundtable, with the group being instrumental in raising awareness of the incidents and impacts of domestic and family violence in LGBTIQ+ communities and supporting training for the Domestic and Family Violence (DFV) sector.
In the April 2018 Roundtable meeting, it was discussed among members that there was a greater need for improved awareness and training regarding domestic violence responses for the Queensland Police Service, court staff, funded support services and hospital staff. Notably, being alert to the same signs and symptoms of DV among LGBTIQ+ families as heterosexual families.
Improve treatment for the transgender community
Sadly, misgendering within the trans community can be caused by bureaucracy. Every form, document, or report that requires a gender identification is an opportunity for trauma – so the Roundtable was adamant that this is an area that needs to change. This was a far-reaching topic, stretching from inclusion of diverse genders in early education, to helping transgender refugees. Significantly, the Births, Deaths, and Marriages Act came into question as the members spoke about the importance of recognising sex and gender diversity and same sex-families.
"There were a lot of basics to be covered - reforms to Births, Deaths and Marriages to make it easier for people who might be transitioning, or who might have had the opportunity to marry a same-sex partner given the law change in 2018/19," says Dr Elise Stephenson.
"A lot of the micro level of discrimination the LGBTIQ+ community face on a day-to-day basis is in interacting with government forms too - so I seem to remember a lot of work around making forms better, such as improving options for disclosing your gender identity or pronouns for instance."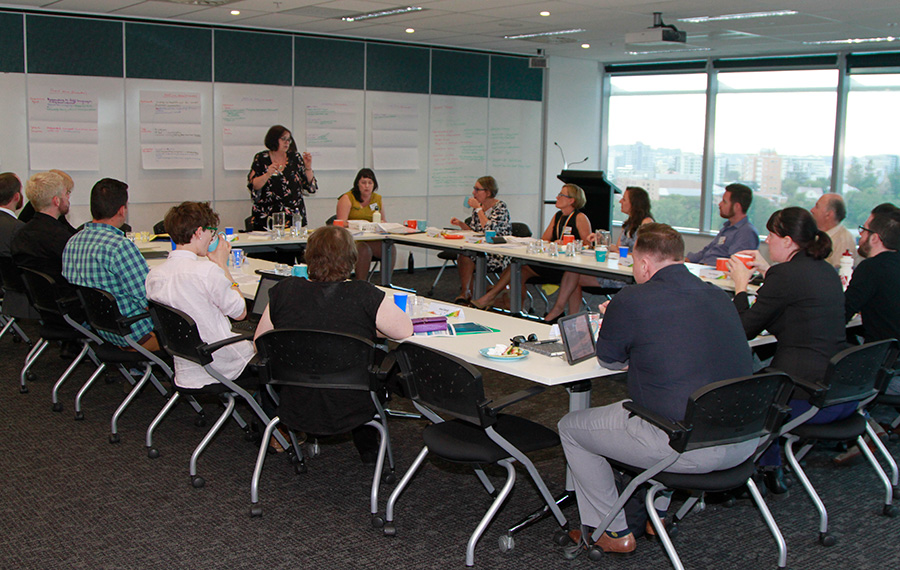 Big goals, big achievements?
In 2018 when the previous Roundtable term began, the then Minister for Communities and Minister for Disability Services and Seniors, Coralee O'Rourke, said the conversations needed to 'improve life outcomes.'
"We know that Queenslanders who identify as Lesbian, Gay, Bisexual, Transgender and Intersex continue to face social, health and inequality issues," said Ms O'Rourke. "We are committed to building thriving and inclusive communities and improving life outcomes for all Queenslanders."
Dr Stephenson says that rather than interpreting this as one-off meetings or policy changes, however, it's important to realise that the Roundtable platforms were more about continuing conversation and dynamic change.
"It's not just 'one-off' events that are significant and important for inclusive policymaking, but recurrent attention, fixing, tweaking, changing, checking, and communication between government and LGBTIQ+ communities that is important," says Dr Stephenson. "This allows for open communication, a learning attitude to the best kinds of policy that deliver tangible results, and genuine commitment to communities beyond 'token' inclusion and events."
A step in the right direction
It's impossible to create inclusive policies without first having meaningful conversations with the communities they are set to impact. Dr Stephenson points out that platforms like the Roundtable meetings are crucial to tapping into 'lived experiences.'
"Ultimately, without these platforms, government has little ability to provide targeted and effective policy, and LGBTIQ+ communities have little ability to have their say in ways in which they are listened to as experts with 'lived experience'," says Dr Stephenson. "As much as possible, it is crucial that governments continue this meaningful engagement, which can benefit the entire community and help government achieve its aims too."
The Queensland Government is expected to announce more details on the upcoming 2022 LGBTIQ+ Roundtable soon, and we all look forward to another productive two years, working hand-in-hand with representatives from the LGBTIQ+ community to create a better future.